DALLAS-Two homes, minimal lot space in between, sit side by side on Cliff Street where Church intersects.
At first they seem no different from the other faded, vacant or neglected craftsman-style properties in the 10th Street neighborhood, a historic district south of the Trinity River founded by freed slaves after the Civil War.
The first house, 218 Cliff, is boarded up, vacant, derelict, with "No Trespassing" spray-painted on the front. It's the kind of decades-old home that gets torn down here, having fallen into such a state that its historic designation protections are void. It's a stark reminder and extant legacy of the white flight and redlining in the 1960s that robbed the neighborhood of city services, investment, banking and code enforcement.
One house over, however, is 220 Cliff-occupied, historic but recently renovated, a fresh coat of paint slapped on. It represents one possible future for this neighborhood, where the development that's coming from the wealthier north leads to change and investment, preserving this history while restoring a sense of hope to one of the nation's last remaining freedmen's towns, where the median household income is around $30,000.
The Southern Gateway Project, a $660 million endeavor to widen Interstate 35E and U.S. 67 and build a deck park between Marsalis and Ewing avenues, is underway. The city and Texas Department of Transportation say the project will reduce congestion, facilitate access and generate money in the surrounding neighborhoods, 10th Street included.
But some view the changes as the outstretched arm of economic development knocking down old homes after hundreds have already faced the wrecking ball, erasing a valuable piece of Dallas' black history, The Dallas Morning News reported . Even worse, the rising lot prices leave little incentive for property owners to tend to the creaky bones of these old homes-it's a lot easier and cheaper to let the houses fall apart so they can sell the land.
Douglas Parker, a 65-year-old former accountant and restaurant owner, bought a house in the neighborhood in 2003 for around $40,000.
At the time, he didn't realize the area was historic. Its corners were office space for prostitutes, dope dealers and petty criminals. Demolitions had already claimed hundreds of old homes.
"But I didn't let that deter me," he said. "I saw value in the property."
Land values in the neighborhood bottomed out and stabilized a couple of years ago, and now they have nowhere to go but up, said Katherine Seale, head of the Landmark Commission. That means developers are more comfortable buying up the neighborhood's ample undeveloped space.
Parker said the economic activity nearby has spurred positive change, reducing crime and making the neighborhood more livable. He gets calls every day from people looking to buy his home, which he said he wouldn't consider selling for less than $160,000-though he has no plans on moving for now.
"There's a lot of new traffic, people looking to buy," he said. "But this is my area-I love it over here."
Just down the street from Parker's house, 10th Street's potential peeks out from behind the debris. Jay Taylor, a designer architect with the international firm HKS, is building a home on 9th Street on a lot that's been vacant since the original house there was demolished in the 1980s. He bought the land for $12,000; its value has tripled, he reckons, in the last three or four years.
The home is one of more than a dozen that he's designed or managed and hopes to see realized and sold on empty lots throughout the neighborhood.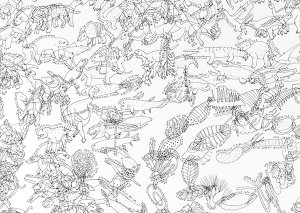 Photo by Courtesy of Pennsylvania Academy of the Fine Arts
This week's top picks in local concerts, fundraisers and events
He first came to 10th Street to survey the neighborhood with some colleagues from HKS and other organizations to help find a path forward, and decided to stay.
"The idea is that it's infill housing," Taylor said. "The goal is not to tear down. All the housing I push people towards are infill lots, empty lots. (The Dallas Morning News) has written about tearing things down. But nobody ever talks to the people trying to turn things around."
He's sold some homes already, typically to young professionals enticed by the history of the neighborhood. His goal is to build up a middle class, something the area hasn't seen since the early 1960s.
It's a tenuous balance-leveraging open checkbooks to revive the neighborhood while preserving history. And though Taylor has fought the Landmark Commission on certain building requirements, he's not interested in seeing history erased.
"I think historic preservation is often viewed as an impediment to development, but I think really preservation is a tool for economic development," said Kathryn Holliday, an architectural historian at University of Texas at Arlington. "(It) is a really powerful tool that respects history and actually does provide flexibility for how neighborhoods can adapt to future uses."
She points to Bishop Arts, where history and commerce have married, as an example.
Only a handful of homes have been built in the neighborhood.
The city has granted permits for around 300 homes in the 75203 ZIP code, which includes 10th Street, the eastern edges of Bishop Arts and a few surrounding blocks in south Oak Cliff, since 2000. But Taylor and Parker both say they've only seen two or three homes built in the 10th Street neighborhood itself since they've been there.
Conversely, a steady beat of demolitions has sounded over the years, taking away housing stock that hasn't been replaced. The city has approved 580 single- and two-family demolition permits in the 75203 ZIP code since 2000, according to Dallas permit records.
There's fear in the preservationist community that new money could bring the wrecking ball around more often, though the data don't show any clear trend in the amount of demolitions.
"The largest issue with 10th Street is the court-ordered demolitions," Seale said.
On paper, historic designation protects old homes. But when owners die without wills, which is common in neighborhoods like 10th Street, houses can get stuck without an obvious title holder and thus fall into disrepair. If the city can't find someone to advocate for the homes, they become blights and nuisances and vulnerable to demolition. Even if the Landmark Commission protests, city attorneys usually win.
And some of the area's savvier landowners, most of whom don't actually live in the neighborhood, have also figured out that buyers are more interested in the land than historical homes.
So they engage in demolition by neglect, letting homes crumble. At that point, the Landmark Commission, which has little power if it can't get a home's title, has to stand by as history collapses on itself.
By Taylor's count, of the 328 lots within the bounds of the historic district, only 56 are owner-occupied. The rest are vacant, abandoned or owned by absentee landlords.
"Some people in the neighborhood have expressed that their land values are gonna shoot up, and there's no incentive to take care of their property because the land is going to be what's valuable," said Seale.
This leads to conflicts between preservationists and city officials who can't sit by as weeds and stray dogs occupy old properties. And these conflicts are arising more as development encroaches, said George Keaton, a Preservation Dallas board member who has studied the area.
"It might be a wake-up call with the Landmark Commission," he said. "If there are houses in that position, there needs to be some kind of recourse. It's clear that the 10th Street area is going to be gentrified, not just redeveloped."
That's the dark side of Bishop Arts, for example-it's well-preserved, sure, but it has also led to skyrocketing property values out of reach for the area's older residents.
And even if the deck park comes in with the best intentions, Seale said some are concerned that 10th Street will become little more than a parking lot for the public green rather than a beneficiary of its contributions.
"There are concerns that the park will be walled off, and the people in the neighborhood will be walled off from the value of the project," she said.
Residents of 10th Street have never had much influence on the machinations at City Hall.
At the very least, developments like the deck park will force the residents to organize and make clear their expectations and desires moving forward, Seale said-whether that means following preservation requirements or letting development enter in earnest or a combination.
She hopes that changes will come to preservation ordinances to protect old homes when landowners are impossible to find.
People like Parker, optimistic now as he was 15 years ago, just want to live their lives in peace and prosperity.
"For those that are in good enough shape to remain historical, we should make sure they remain historical," he said. "For the others where there's a lot of stuff you have to do, it's not a good investment. They won't tear mine down, though."