Not many convenience stores can call themselves community landmarks, but such a description can accurately be laid on the Rock Store.
The business, which has served the area since before the U.S. entered World War II, is 9 miles outside of Texarkana at the Ferguson Crossroads on U.S. Highway 71.
"The Ferguson family, who still live in the area across the street from the Rock Store, established this place," said Kevin Sanders, owner of the Rock Store. "You go out into the back of the place and take a look. Even though it is worn down a bit, you can see written into concrete, J.G. Ferguson."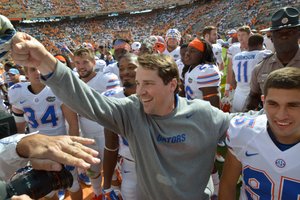 Photo by MICHAEL PATRICK / AP/Knoxville News Sentinel
Florida head coach Will Muschamp celebrates with his players after their 10-9 victory over Tennessee in an NCAA college football game at Neyland Stadium, Saturday, Oct. 4, 2014, in Knoxville, Tenn.
Sanders, the fourth owner of the Rock Store since it opened, has ran the place for 27 years. He said the business environment has changed.
"There are some other convenience stores not too far from here," he said. "Also, a couple of dollar stores have sprung up, making the business environment a little more challenging."
Still, the locally owned business stands out, not only from its location but as a mom-and-pop sort of place in a world of chains.
"The business was doing well while we were running it," Sanders said, "Our location along a busy road as well as our stock is a key part of what kept the customers coming. We had lots of stuff the dollar stores don't have, like Hunts Brothers pizza, lunch meat and gas pumps."
The Sanderses have decided to close the store, however, and are looking to focus more on their other properties. They are looking for an owner.
As advice for those who may want to run a convenience store, Sanders recommended being friendly.
"Be honest, be friendly," he said, "It is all about customer service. You want to give them good product and service and let them spread the word via word of mouth."
And it has worked. According to Sanders, the reputation of the Rock Store has ventured much farther than he ever expected.
"Many of our customers here have been coming here for many years," he said. "Also, my wife and I were on a trip to Mexico and happened to talk to some people down there who sang the praises of the Rock Store once they found out who we were. I never expected anything like that far from home."