With Memorial Day almost here, a patriotic group consisting of six bicycle riders and walkers peddled into Texarkana on Thursday afternoon to not only memorialize military veterans but also first responders.
The group, known as Carry The Load, made its seventh visit to Texarkana since organizing in West Point, N.Y., in 2012, said Stacy James, one of the supporters.
This time each year, the group bicycles and walks 3,800 miles in 32 days from West Point to Dallas with the Sunday before Memorial Day being their journey completion date in Dallas.
"Besides having this East Coast group, we also have a West Coast group that starts in Seattle, Wash., and goes to Dallas, and this year we started a midwestern group that comes from Minneapolis to Dallas," he said.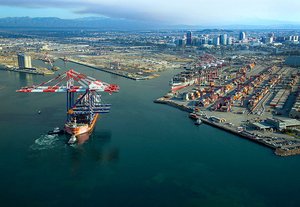 Photo by BLOOMBERG NEWS
Tugboats guide a ship carrying Shanghai Zhenhua Heavy Industry Co. (ZMPC) STS gantry cranes to the Long Beach Container Terminal in Long Beach, Calif., in January. Equipment shortages, labor negotiations and rail delays are slowing shipments from the Ports of Los Angeles and Long Beach, the nationís biggest container hub, just as retailers are piling up goods for their most important period of the year. Illustrates PORTS (category f) by Craig Giammona and Lynn Doan (c) 2014, Bloomberg News. Moved Monday, Oct. 27, 2014 (MUST CREDIT: Bloomberg News photo by Tim Rue).
James said the group bikes and walks the distance regardless of wet or dry weather.
"We are doing this to bring awareness to not only the sacrifices our military veterans make, but also our first responders in law enforcement, firefighting and emergency medical service," he said.
"We also have about 10 partnership groups that help us conduct fundraising for our veterans and our first responders."
James also said the effort started when two Navy Seals decided to restore Memorial Day's true meaning and purpose-to honor and remember the sacrifices of veterans rather instead of turning the day into a commercial holiday for shopping for bargains.
"We also raise funds to help the kids of first responders and veterans get college scholarships," James said. "We should be in Dallas by 10:30a.m. Sunday.