HAZEL JORDAN
August 24, 2022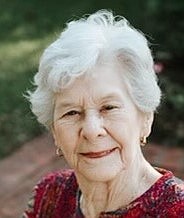 Hazel Griffin Jordan, 99 of Hope passed away on August 21, 2022, in her home surrounded by her daughters.
Born to John and Florence McCorkle Griffin on June 29th, 1923. She was the 7th of 10 children. She graduated from Columbus High School in 1940 where she was Salutatorian of her class and played guard on their championship basketball team. After graduation she moved to Hope, where she met her late husband, Raymond Jordan. She spent her working years as a nurse working for Dr. Walter Sims, Dr. Lynn and Lowell Harris, Dr. Asa Womack, and Dr. Jerry Irby. She was a member of the 1st United Methodist Church of Hope, taught children's Sunday School, and was also a member of the Fidelis Sunday School Class. She will be known by her family for being the most loving mother, a strong woman, fiercely independent, hardworking, and kind.
Hazel is survived by daughters Delia (Stan) James of Hope AR, Raelaine (Bobby) Ford of Sherwood AR, Grand-daughter Brooke (Jeremy) McCall of North Little Rock AR, Great granddaughters Jersey & River McCall both of North Little Rock, AR. The Irby's, Jerry, Darla, Jeremy, Jordan (Nikki), and families, as well as a host of nieces, nephews, and friends. One very special friend Mary Lee Brown. She is proceeded in death by her parents, husband Raymond Jordan, brothers Herbert, Dave, Charlie, Robert, Jimmie, and Johnnie. Sisters Martha Pardue, Lelia Park, and Willie Mae McIver.
The true epitome of a "Southern Lady", as stated by Jordan Irby.
Visitation will be held 10:00AM Friday, August 26, 2022 at Herndon-Fuqua Funeral Home Chapel. A Celebration of Life will follow at 11:00AM, under the direction of Herndon-Fuqua Funeral Home.
In lieu of flowers, please make donations to The 1st United Methodist Church of Hope, P.O. 400 Hope AR 71801.
We also invite you to express your public condolences at www.herndonfuquafuneralhomes.com or private Letters of Love at www.herndonfuquafuneralhomes.com/page/letters-of-love.