SHARON AND CLARK MOORE
August 24, 2022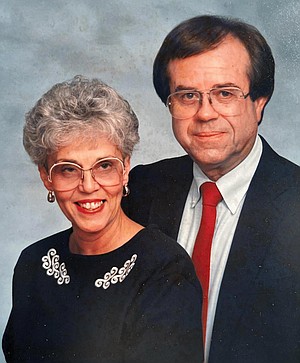 When Sharon saw Clark for the first time, she told a friend, "I'm going to marry that boy!" And she did. According to Clark, it was Sharon that proposed. The two were married on December 16, 1956.
Sharon passed away in their home in Daingerfield on August 11. Clark passed away in a Mt. Pleasant nursing facility on August 12. After 66 years of marriage, they were only apart for 35 hours on this earth.
Sharon Joy Wells Moore was born June 7, 1938, in Rogers, Arkansas to Edward and Helen Wells. She is preceded in death by her parents and her brother, Jerry Wells. Sharon retired from Arkla Gas after working there for 30 years. She was involved in her church with different committees for many years. Her passion was the Our Lady of the Pines Cemetery committee. Her favorite times were with her children, grandchildren, and great-grandchildren.
Clark H. Moore was born September 24, 1934, in Texarkana to H.H. and Avaneil Moore. He is preceded in death by his parents and his sister, Molly Moore. Clark retired from GTE after working there for 34 years. Clark was devout in his faith and loved his church. He loved to cook and was always looking for a way to make it better the next time. He also had a love for music and you would find music playing in their home at all times.
Sharon and Clark are survived by their children, Donna Brent and husband Paul from Burnett, Jerry Moore and wife Beverly from Daingerfield; their grandchildren, Sutton Buck and wife Brittany of Burnett, Cody Buck and partner Brian Hohertz of Little Rock, Arkansas, Shannon Brent of Austin, Erin Brent of Austin, Jonathan Payne and wife Shannon of Diana, Kandi Greenlee and husband Keith of Daingerfield, Annalyn Moore of Daingerfield and Jeryn Moore of Daingerfield; great grandchildren, Sybil and Wylie Buck, Amelia Ann Hohertz, Madison Greenlee, Wyatt and Dean Payne and Matua Tedtaotao . They were awaiting the arrival of their newest great-grand in December, Levi Castillo. Sister-in-law Wanda Wells of Old Town, Maine, Nieces Kelly Rand and husband Gary, Karen Koneff and husband Mark, Susan Haynes and husband Jim. Nephews Kevin Cox and wife Candace and David Cox. They were blessed with an honorary family, Delfino and Yolanda Lopez and their children Claudia, Myra, John Paul and Kimberly of Daingerfield.
A Mass of Christian Burial for Sharon and Clark will be Saturday, August 27 at Our Lady of Fatima Catholic Church in Daingerfield at 10 a.m. and burial will follow in Our Lady of the Pines Cemetery, under the direction of Horn-Nail-Haggard Funeral Home of Daingerfield. Memorials may be made to the cemetery.