Susan Douthit
February 17, 2022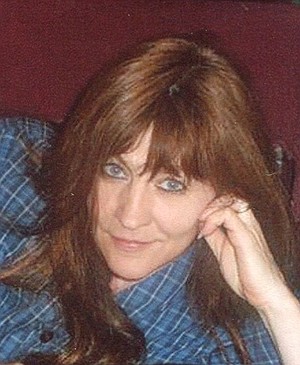 Susan "Suzy" Marie Douthit, 61, of Simms Texas, passed away on Monday, February 14, 2022, at her residence.
Suzy was born on November 13, 1960, to John and Florence Hejka in Chicago Illinois. Her early years consisted of wandering through the countryside playing in creeks and pestering horses. Although Suzy's life took many directions, she loved country living, and eventually moved to Texas to raise her kids where we could wander the land, swim in creeks, and ride horses too.
Suzy was a loving wife, mom, grandma, sister, aunt, and friend. She enjoyed playing with her grand kids and pets, reminiscing over photographs and music, and spending time with family. She had a big heart for dogs that were abandoned and would take in any that needed a home.
Suzy left behind many that will miss her - husband Ronnie; children Adelene & Shane, Dalton & Tonia, Evan & Abbi; sisters Therese & husband Gary, her twin and best friend Nancy; grandchildren Alaric, Aedan, and Candace, special nieces & nephews Kevin & Tara, Kristall, Heidi & Brooke, Rachael, Jeremiah, and Laura; step children Ronald, Tracie and Teresa; and 7 grandchildren as well as many more family and friends. She touched all of our hearts in individual ways. She was always there to talk to, she listened, encouraged, cared, and supported us with love. Suzy was such a kind soul. She had so much love to give and that she did.
We pray she is now reunited with her beloved son CaRl and has found peace & contentment surrounded by the many loved ones that are there to greet her in the afterlife including her mom and dad, and siblings Jackie, Eddie, Joannie, Judy, Carol, Mary, Marcia, and Diane.
"You never said I'm leaving, you never said goodbye. You were gone before we knew it, and only God knew why. A million times we needed you, a million times we cried. If love alone could have saved you, you never would have died. In life we loved you dearly, in death we love you still. In our hearts you hold a place that no one could ever fill. It broke our hearts to lose you, but you didn't go alone. For part of us went with you, the day God took you home." Author Unknown.
Funeral Services will be held on Sunday, February 20, 2022, at 2:00 PM at Bates-Rolf Funeral Home – New Boston, Texas. Visitation will be held on Saturday, February 19, 2022, from 6:00 PM to 8:00 PM the day before the service. Cremation arrangements are being made under the direction of Bates-Rolf Funeral Home – New Boston, Texas.
Online registration may be made at www.batesrolffuneralhome.com.