Myrel Blakey Butler
July 6, 2022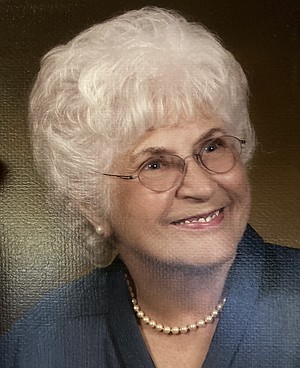 Myrel Blakey Butler, age 87, went to be with the Lord, Monday, July 4, 2022 at her residence. She was born February 12, 1935 in Atlanta, Texas to Acie and Eunice Wilbanks Blakey. Myrel was a retired beauty operator and a talented dress maker, quilter and doll maker. She was a member of the Eastern Star and enjoyed fishing. Myrel was "Pioneer Stock" and had a get it done personality, including being very active in her families lives.
She is preceded in death by her husband, Joe Butler; daughter, Beth Whiseman, grandson, Caleb Robertson; and her parents.
Myrel is survived by two sons, Ronny Butler and wife Betty of Stonewall, Louisiana, David Robertson and wife Marti of Anchorage, Alaska; four daughters, Laquita Mechler and husband David of Mico, Texas, Juana Jo Barr and husband Tommy of Shreveport, Louisiana, Gail Rogers of Houston, Texas, Begetta Butler-Crisp of Atlanta, Texas; two brothers, David Blakey and wife Jo Nell of Shreveport, Louisiana, Wesley Blakey and wife Deanna of Shreveport, Louisiana; numerous grandchildren and great grandchildren; and a number of other family and friends.
Funeral services will be 2:00 pm, Friday, July 8, 2022 in the Hanner Funeral Service Chapel.
Visitation will be 6:00 pm to 8:00 pm, Thursday, July 7, 2022 at Hanner Funeral Service.
Interment will be in Bethsaida "Y" Cemetery.
Guest registry is available at www.hannerfuneralservice.com.