Joann Frances Pappas
January 27, 2023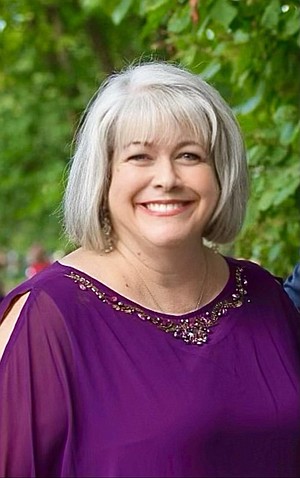 unsaved changes
March 28, 1955 - January 16, 2023
Joann Frances (Van Parys) Pappas, a longtime high school history teacher and college professor in the Texarkana, TX, area, mother of three, sister of six, passed away in her sleep on January 16 in Playa del Carmen, Mexico. The cause of death was unclear, but Joann, who lived in Wake Village, TX, had been experiencing labored breathing following bouts with COVID.
The sudden death of the beloved parent, sister, educator, avid traveler, and friend, reverberated throughout Redwater High School, Texarkana College, and beyond. Generations of students spanning the globe credit her with having had a positive impact on their lives, inspiring some to become teachers or adventurers themselves.
While her engaging teaching style and passion for history helped figures to leap from the page into her students' memory, it was just as much her loyal friendship and guidance—provided freely and unconditionally (whether you wanted the tutelage or not, as her siblings would tease)—that held enduring sway with all those she met, deepening the void in her departure.
Joann, 67, died while in the company of her daughter Elizabeth.
Rust Belt Provenance with Texas Roots
Joann was born on March 28, 1955, in Limestone, ME, to Joseph M Van Parys of South Bend, IN, and Patricia A (Williams) Van Parys, of Pittsburgh, PA, both of whom predecease her. Her parents met and married while stationed at Limestone Air Force Base; "Van" had flown in WWII (where he was shot down over Italy and MIA for nine months) and Korea, while "Pat" was one of the first commissioned female officers in the Air Force, having previously earned her Masters in Biology at Fordham in the Bronx, NY. Anyone who queried Pat as to why a trailblazing scientist (women in STEM fields were a rarity then), running her own lab at Pitt, would jump careers to join the Air Force, would be met with her no-nonsense deadpan of "to get out of Pittsburgh."
After leaving the service, they returned to Van's home state of Indiana where he became a State Trooper. As the family grew, Van took a "desk job" at Pat's urging with the Bureau of Prisons to "get him off the road." In time it led to his promotion and transfer from the United States Penitentiary in Terre Haute, IN, to the Federal Correctional Institution in Texarkana, TX, in 1963, where he served as Chief Personnel Officer.
Joann was the first of Van and Pat's seven children, born over nine years. A student of the Sacred Heart Academy and St. Edward's, Joann would later attend Pine Street Junior High and graduate Salutatorian of her class at Texas High School in 1973. There wasn't an honorary society or social organization that she didn't join—and ultimately conquer—setting the hyperactive social and academic tone for the rest of her life. That's how she rolled, full steam, til the very end. Organizations (too many to list), you know who you are.
Joann attended Texas A&M in College Station as a Presidential Scholar, where she earned both a Bachelor and Master degree in History. There was no Bigger Aggie out there (admittedly, fighting words) and this is where her love of historical traditions fully took root. In December 1973, she married Andrew Pappas, also of Texarkana (and fellow Aggie) at Sacred Heart Catholic Church. They bore a son Andrew Joseph (A.J.), in June 1974, followed by daughters Elizabeth Ann, in March 1982, and Rebecca Marie, in March 1988. A devout Catholic, Joann adhered to the same criteria in naming her children as her mother had: in homage to close relatives… just so long they had been named after Saints.
Andrew's career as an engineer within the paper industry took them to locations across Louisiana and Texas—where at one point in the mid 80s, Joann worked as a curator at the Star of the Republic Museum in Washington-on-the-Brazos. From there they headed to Rome, GA., before returning to the Texarkana area in 1989, when Andrew transferred with BE&K Building Group. They settled in Wake Village, where their marriage would later end in divorce.
Finding and Amplifying Her Voice
Once her children entered school, Joann began substitute teaching at Texas High and Texarkana College. In 2000, she took a full-time position at Redwater High School. There she fully mastered the art of social science through her targeted teaching style, skills which were embedded in her DNA: her father's career in Human Resources focused on helping people to reach their full potential, while her mother's intellect (an IQ over 170) allowed her to connect the dots in terms of constructs and context. Joann knew how people's brains worked, while understanding how to make key material register.
Additionally, the maternal side of Pat's family was Irish, giving Joann the gift of gab. Storytelling became her jam, and she reveled in celebrating the American story because she embodied it: The granddaughter of working class Belgian immigrants on one side (her paternal grandfather, a machinist, worked the line at Studebaker) and science-driven professionals on the other (her maternal grandfather, a lead engineer at Westinghouse, played a significant role in designing the turbines at Hoover Dam), Joann related to, and empathized with, a wide array of people, their struggles, and the universal dreams of bettering oneself. And how that quintessential American dynamic constitutes our nation's bedrock. (Global folklore for extra credit: She was also a purported descendant of the British Royal Navy Admiral Horatio Nelson…which might've explained her penchant for giving orders.)
Two time-honored traditions Joann initiated at Redwater included having her students sign her teaching podium upon graduating, and always making the time to meet with former students whenever they rolled through town. A natural connector, she often dispatched "her kids" to see her siblings or friends in various destinations, along with the Big Sister mandate to help them land a job or pursue their dreams. And you didn't dare mess with Texas.
Joann's helping hand extended to her biological kids as well, landing daughter Elizabeth in New York City, starting as a fashion intern at JANE magazine, where one of her uncles worked, in 2004. By 2017, her daughter Rebecca would migrate to the city as well. With her daughters' boots on the ground, the family joked that American Airlines might've well as linked TXK to LGA via sky bridge, as Joann promptly seemed to spend more time in—and know more about—the city than many New Yorkers. History was the initial portal to her immersion, as she continually attended seminars and fellowships across the Northeast. She thrived in not just understanding the facts surrounding our country's historical events, but in fully grasping the social context in which the players operated.
Joann also LOVED Broadway musicals, so by the time Hamilton hit, she was in hog (just not Razorback) heaven. Joann saw more than 100 musicals with her daughters, starting with Miss Saigon (in her view, there was a historical angle to everything) in 1999. No stranger to the stage herself, she appeared in musicals as far back as 1973, starting in the Texarkana College production of The Sound of Music, and later playing the Countess in The Women at TexRep (reportedly to great audience delight).
Expanding Horizons for All
There would be one more pivotal chapter to Joann's book, that began in 2004 with a trip to Mexico with a Redwater Spanish class: As her own children cleared educational milestones, she was able to devote more time to international travel. She always had voracious curiosity, and like her mother Pat, wanted to get out and see the world.
A working relationship with EF (Education First) Tours starting in 2013 afforded Joann the opportunity to globe-trot while leading student and adult trips with an eye toward history. She visited dozens of countries, often with one of her daughters in tow, with the poignancy of Mexico serving as her first, and last, foreign trip.
Joann's learning never ended and her viewpoints continually evolved. The woman who started out as a strait-laced Young Republican wound up capable of surprisingly progressive badassery later in life. She could hold her own on world politics, economics, or foreign policy, in any venue. And when it came to extrapolating historical parallels from current events… fuhgeddaboutit. She was salty and funny, particularly while armed with a margarita (or two), let alone a spot of the grape.
If Joann's family or friends ever questioned why she endured the boundless demands of nobly serving as an educator, the outpouring of tributes across social media (and shared in private) following her untimely transition, settled any doubt. Her family has been deeply moved by—and take great comfort in—knowing that Joann truly changed people's lives for the better. Everything she learned, she shared; her life is testament that kind and good acts can lead to kind and good results.
Joann is survived by her children Andrew Joseph Pappas of Texarkana, Tx; Elizabeth Pappas (Brent Waligory) and Rebecca Pappas of New York City; her siblings Joseph Michael Van Parys (Judi Young) of Tarpon Springs, FL; Katherine Marie McCoy (Tim McCoy) of Johnston, IA; David Carroll Van Parys (Janice Dickson) of Leavenworth, KS; William Maurice Van Parys (Doug Harris) of NYC; John Patrick Van Parys of Kansas City, MO; and Brigid Ann Van Parys of St. Joseph, MO. She also leaves behind a multitude of brokenhearted, yet eternally awestruck first cousins throughout the Midwest. And, oh yes, her students, far and wide.
She will be sorely missed and never forgotten.
Visitation is 2:00 to 7:00 PM Saturday, January 28, 2023 at East Funeral Home-Downtown.
Rosary will be recited at 4:00 P.M. Saturday, January 28, 2023 at East Funeral Home-Downtown.
Mass of Christian Burial will be 3:00 P.M. Sunday, January 29, 2023 at Sacred Heart Catholic Church. Burial to follow in Holy Cross Cemetery.
Condolences may be left at www.eastfuneralhomes.com.